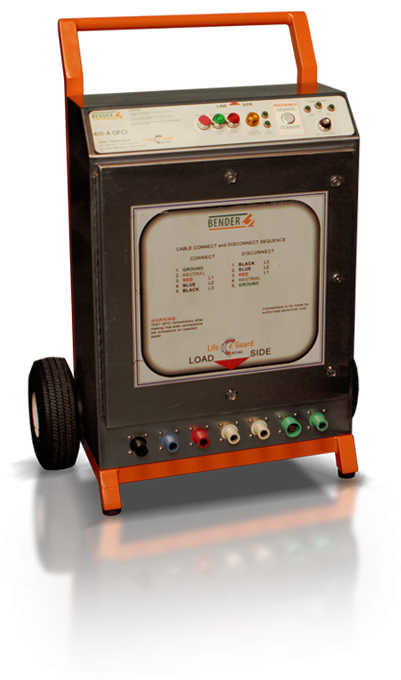 Specifications:
Capacity
1200 amps - 400a per Phase
Input
120, 208, 240, or 480 V (w or w/o neutral)
Trip Point
<20 mA (switchable to 6 mA)
Enclosure
Custom stainless steel on custom rolling cart
Connectors
Panel mount camlock style
"HOSS"
The LG400 is the workhouse of the larger GFCI's! With a total capacity of 1200 amps (400amps a leg) it is the perfect tool to protect those 4/0 cable runs. Larger GFCI's like this are classified as equipment protection. However, Bender was able to utilize the same technology incorporated in the smaller "Class A" devices into a large GFCI. When desired the user can have the trip level changed from 20mA to 5mA to be at the same level of protection available in our smaller devices. The LG400 is also capable of a voltage selection of 480, this is very handle when you need to protect those 480 volt power systems that are more and more common these days.