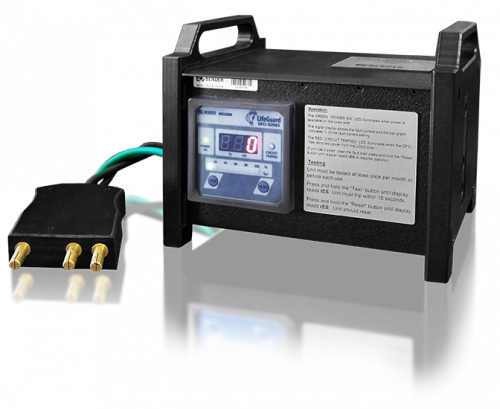 Specifications:
Input
120 VAC, 50/60 Hz, single phase
Enclosure
Composite and aluminum with stackable handles
Connectors
Male stage pin with tail, Female flush mount
"The Compact"
The LG100C is the very latest in GFCI technology for the portable power system used in the entertainment industry. This GFCI is the smallest lightest weight 100amp unit in the biz. It weighs in at less than 12 lbs and because it's only 10"x8"x7" and stackable, you can easy keep 2 in a milk crate to save room in the truck. "The Compact" not only breaks the size barrier – it also includes the latest in GFCI technology from Bender including the newest and best filtering for reducing nuisance tripping. LG100C also incorporates the "Auto Start" feature that allows you to energize remotely. No more running around to every unit to press the start button. We do this by having the unit perform a GFCI test as soon as it is plugged in. Bender also designed a new user interface that allows the user to monitor the current leakage while energized. No more guessing if there is potential problem you will be able to quickly see exactly how close you are to your trip point.